It has become obvious that men are not the only people who love the excitement and adrenaline presented by some of the best racing games today. It is common to find women who not only love to play the game but are also ardent supporters of the game.  The new and improved versions of the racing games offered today offer a lot of fun and excellent graphic details never seen before.
Technology has vastly improved and the quality of gaming is increased tenfold. Choosing your preferred console is not a problem, but picking the right game is now more difficult.
There are very many racing games available today but not all fit in the list of the top 10 best racing games. One of the qualities to look out for when seeking the best of these games is to pick only those that have 3D graphic features. The best in this list include:
This game is characterized with high speed.  It is all about picking and dropping off people and saving them from cops. It also includes heart pounding speed, skill and ability when you take control of the wheelman and presses you to use your intuition to make it through the next challenge. The thrill of the game is brought about by the superhuman abilities a player acquires while on the driving seat. The game can be played on Xbox 360 and PC. One of the game's claims to fame is the transfer to movie screens, with a script in process.
Dirt 2
For hard core rally racing fans this is the game to choose. The fact that it can be played on PS2, PS3, Xbox and Xbox 360 provides any fan with a great opportunity to enjoy the game anytime. Regardless of console choice, the game provide top notch racing action. It has been rated as a high quality racing game due to excellent attention to detail and stunning visuals. It is definitely an improvement on the previous version and still keeps to the original.

Need for Speed Shift
It is possible to play this game on a PC if you happen to have a top graphics card. This is a game of speed with the best graphics ever used in racing games. The game is also available on other consoles and still provides the same quality of gaming we are all used to. Need for Speed has been around for years and this new game continues to impress from the series.

Gran Turismo 5
This is the only name used in road stimulation games. This game comes with detailed car graphics accompanied by excellent sound effects. In this series a player gets to have over 600 cars. One of the greatest road simulation games available, the possibilities are endless, with cars to purchase, test and upgrade. Features numerous race tracks and endless possibilities, as well as excellent gameplay and infinite multiplayer fun.
Blur
This game offers the ultimate experience ever imagined in racing. In the game the player gets a golden chance to travel nonstop to some of the most famous countries and states in the world.  Not only that, the game offers a numer of power ups to boost the experience of gameplay. Play it by yourself or with friends, there is an endless amount of fun to be had when playing the game. Brought to you by the famous company Activision.The game can be played on PS2, PS3, PC and Xbox360.
Forza 3
There is no other racing game that matches the graphics displayed in Forza 3. With these cool graphics a player gets to enjoy excellent and realistic features and the right dosage of speed expected in any racing game. Has consistently scored high ratings from a number of reputable sources and also won numerous awards for best driving game. Also features a top notch soundtrack to listen to awesomely selected beats when you're driving. Available only on Xbox 360 but never fails to excite and provide an awesome driving experience.

Test Drive Unlimited 2

This game is characterized by open space fit for test driving. Major improvements have been done to the game and it can be played on all PCs and PS3. Has shown the world that persistence is the key when it comes to creating top quality racing games and this one does not disappoint. Has modest beginnings on older consoles but has developed over the years to become a top quality racing game. Play it with your friends for some real action and excitement.

Midnight Club 3 Dub Edition
This game comes with some of the most excellent car modifications that are available to be used with different modes. It is this differentiation that makes the game worth playing. Various styles and types of cars are available alongside a multitude of modifications you can make to each car. Style them, spray them and give them your own personalised plate to make each and every vehicle an extension and representation of your character. One of the greatest racing games for customisation, especially for street customisation allowing you some amazingly designed graphics and decals on your vehicle.

Need for Speed Hot Pursuit 3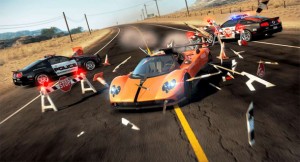 For the best engine sounds the game to play is this. It is much better than all the speed series in the top ten list. Another of the instant hits that the Need for Speed series produces. Provides and intense visual and audio experience in the world of racing and leaves your blood pumping as you race through the streets and beat pursuing police cars. Adds an element of style to the overall storyline and makes a great mixed addition to any games collection.

PGR 4
This game was developed by Microsoft developers and has over 130 vehicles. Considered the dark horse of the racing scene, this game surprisingly has a lot to bring to the table. An excellent racer that is often forgotten amongst the superb list of other racing games, players who buy PGR4 and experience are definitely satisfied. Offers immensely detailed graphics and racing experiences that are unlike any seen on video gaming consoles to date.
It is good to note that all of these top 10 best racing games not only boast great graphics, but can also be played on play stations and even PCs. Regardless of your choice of video gaming tool, there is an infinite amount of fun to be had whilst playing each and every one of these games.